Non-Invasive Anti-Aging Procedures and Technology
Surgical procedures are being somewhat replaced by less invasive techniques and non-invasive technology.  Every year, if not almost every month, new high-tech devices become available to rejuvenate appearance without the need for incisional surgical procedures.
To keep current and on the forefront of this technology, we strive to provide our patients with the latest and greatest.  However, one must realize and understand that not every new device works well or achieves the desired results.  Often, what is tried and true is usually better than what is new.  With this in mind, we endeavor to offer our patients procedures that have been successful in our hands.  Similarly, we disavow and discard those procedures that are not effective and do not provide a desirable level of patient satisfaction.
So here are some of the high-tech procedures we are performing that ate effective in producing nice results that are pleasing to a large segment of our patients.
*GentleLASE – An Alexandrite Laser that is superb of long term reduction of unwanted hair.  As well, it targets dark pigment and it is very useful in diminishing or eliminating brown and tan pigment skin spots (flat age spots and sun spots – freckles, lentigines).
*Sharplan CO² Laser – Used to ablate and resurface facial skin that is significantly wrinkled and/or actinic and weather damaged as well as discolored.  In appropriate cases, the ultimate results are often outstanding in producing a very smooth skin surface.
*Venus Legacy –   A radiofrequency (RF) device that incorporates unique magnetic pulsations (PEMF) used to tighten skin surface of the neck, body and face.  In addition to skin tightening, this device will reduce unwanted subcutaneous fat.  To potentiate the results, a surface suction mechanism is incorporated to obtain better penetration of the RF and PEMF.
*PinXel RF – A multi-microneedling radio frequency (RF) device that provides desired penetration of the RF waves to tighten the skin of the face and neck and make the surface much smoother.  This device may also be employed to treat other body areas.  Subcutaneous fat may also be reduced with the PinXel RF having the added benefit of tightening the overlying skin as well.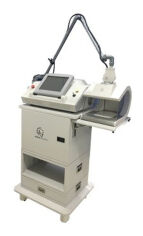 *Phoenix – A fractioned CO² laser that is used treat several areas.  At present, we are primarily using this device in a non-invasive manner to superficially resurface and successfully rejuvenate the hands. There is no downtime and the procedure takes only a few minutes with no anesthesia needed. This fractioned CO² laser can also be used for facial resurfacing with less downtime than the traditional non-fractioned CO² lasers.
*Zerona – A completely non-invasive laser used to effectively reduce undesirable excess abdominal and flanks (love handles) subcutaneous fat.  In appropriate circumstances, other areas of excess fat may also be reduced.  Reduction of abdominal girth with the loss of several inches around the waist can be achieved with this device.  Moderate dietary measures will add to the ultimate results.
Other Modalities we employ include:
*MicroElectrodesiccation – Super for spider telangiectasias – small red spots and tiny red   "veins" on the face as well as other skin surfaces.
         *Medical Grade Silicone – Filler injections with many applications including the reduction of facial skin lines and wrinkles, filling and reducing or eliminating facial depressions, the reduction of acne and depressed traumatic scars, treatment of aging cheek hollows and depressions to produce a more youthful facial appearance.
          *Botox – Injections to reduce or eliminate facial frown lines between the eyebrows, forehead furrows and creases, crows-feet (smile lines at the sides of the eyes).
The list goes on. Obviously, we keep abreast of the best technology in the pursuit of improving the appearance of our patients and, in turn, we help them to improve their quality of life…Dr. Sigmund L. Sattenspiel